The right
solution

Consistent
quality

Unfailing
support

Knowledgable
& educational

Proud to be
specialist
Compact Fire Suppression Systems for Minibuses
Most minibus fires start in the engine compartment. Automatic fire suppression can extinguish a fire before the driver has even detected it, minimising disruption and repair costs.
Our minibus fire suppression system offers reliable fire protection designed to fit minibus engine compartments. The ABC Dry Chemical agent provides rapid fire knock-down and excellent coverage, even getting to hard-to-reach areas of the engine compartment. The linear detection and distribution tubing discharge the extinguishing agent directly to the area where it is most needed to provide fast, effective fire suppression.
Cost effective systems

Our minibus fire protection solutions can be quickly reinstated after deployment with minimal downtime and repair costs.

Automatic Fire Protection

The system automatically detects and suppresses fires in the protected area, requiring no manual operation.

Rapid fire knock-down

The system uses ABC dry chemical power which offers the fastest suppression time and excellent coverage.
ABC Dry Chemical Agent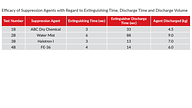 In a study commissioned by the Fire Protection Research Foundation1 analysing the impact of various extinguishing agents on Class A materials, ABC dry checmical showed the fastest extinguishing time using the least amount of agent.
Compared to water mist, the dry chemical extinguishing agent was able to extinguish the fire in half the time using half the quantity of agent.
1 Scheffey, J.L. and Forssell, E.W., "Measuring the Impact of Fire Extinguisher Agents on Cultural Resource Materials - Final Report," Fire Protection Research Foundation, Quincy, MA, February 2010.
How the Ardent Minibus System Works
The Ardent Minibus Fire Suppression System is designed for local application within the engine compartment of minibuses. The system comprises of linear detection tubing routed around the engine compartment, with a focus on the fire hazard areas. When a fire ignites, the gas in the detection tubing is heated, causing the tube to burst and distribute the suppression agent from the point of rupture.
The dry chemical agent is extremely effective at suppressing most types of fire and offers high coverage rates thanks to its excellent dispersion properties. Rapid suppression means minimal downtime and vehicle damage, as well as increased safety for driver and passengers.
Sample Minibus Fire Suppression System
The Ardent Minibus Fire Suppression System offers full flexibility in the scope of the system. The basic system provides complete fire protection, and optional features can be added to deliver driver warnings or audio messages.
A pressure switch is included which allows an LED to be fitted on the dashboard to alert the driver if the fire suppression system is activated.