The right
solution

Consistent
quality

Unfailing
support

Knowledgable
& educational

Proud to be
specialist
Making sure that your fire suppression system is fit for purpose for the application and operating conditions of your equipment is the first step in choosing the right protection for your business and people.
We want to help you make this crucial decision by providing you with in-depth information about the Ardent Fire Suppression Systems and how they work, so you can be confident that you made the right choice.
For mobile plant working in harsh environments, often subject to significant shock and vibration as well as temperature swings, your system system reliability is paramount to maintaining the level of protection and performance that is expected from them.
Why Do We Recommend Electronic Fire Suppression Systems?
Electronic fire suppression systems are proven to offer the best performance and higher level of reliability in mobile plant applications. The heavy shock and vibration commonly seen in industrial environments where off-road vehicles operate requires robust systems that can perform under these challenging conditions.
Electronic fire detection technology significantly reduces the likelihood of false discharges resulting from loss of pressure commonly seen in pneumatic fire suppression systems. Given that gas will always leak through a seal over time, which is made worse by temperature, there is a risk that the tube pressure will drop, leading to a false system discharge. Ancillaries such as pressure switches and manual actuators introduce additional connections, increasing potential leak points. This, compounded with a high-vibration environment subject to massive temperature swings, further decreases the reliability of pneumatic systems.
Electronic fire suppression systems can differentiate a signal caused by damage to the detection cable from a fire signal, and the system will only activate in the latter scenario. In addition, electronic systems constantly monitor the state of the fire detection cable and alert the operator of any damage so it can be rapidly rectified.
It is not only the technology that we use and the quality of our components. At Ardent, we take care to ensure that your fire suppression systems are the right choice for you, which includes performing a thorough Fire Hazard Identification on your equipment before we design and specify a system based on your machine, its environment and working conditions, and your business requirements.
How Our Electronic Fire Suppression Systems Work
Fire Detection
The Ardent Mobile Plant Fire Suppression Systems utilise electronic fire detection technology in the form of our Linear Heat Detection (LHD) cable. The LHD cable is routed around all identified fire hazards in the machine to detect a fire or elevated temperature condition within seconds, initiating the fire suppression system discharge.
This fire detection cable is designed to reduce false discharges to a minimum while providing live monitoring capabilities.
Increased reliability

The LHD cable significantly reduces potential false discharges commonly seen in pneumatic systems used in mobile plant.

Live status monitoring

The system communicates any detection cable damage and alerts the operator via the control module.

Detection isolation

The fire detection circuit can be isolated for machine maintenance, allowing the system to still be activated manually if needed.
How the LDH Cable works
A heat sensitive polymer coats the conductors and melts when exposed to the heat generated by a fire or elevated temperature condition. The LHD cable is designed to initiate the system discharge at 180 °C. Some systems are designed to detect and discharge at lower temperatures, however, for mobile plant, ambient temperatures within the machine may reach or exceed these lower temperatures required for system activation, resulting in higher instances of false discharges.
When the heat sensitive polymer melts, the conductors are exposed and initiate contact with one another, resulting in a short-circuit signal being sent to the Ardent VCM Control Module and initiating the system activation.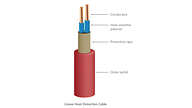 System Activation
The Ardent VCM Control Module acts as the brain of the fire suppression system, handling fire detection, system discharge, system monitoring and alerts, and other functionalities.
The control module constantly monitors the fire suppression system for fire signals, damage and faults, providing visual and audible alerts to the machine operators. Through the control module, the operator can manually activate the fire suppression system or delay the automatic system activation. The control module also allows the system to be put in isolation mode for machine maintenance.
In addition to the VCM Control Module, manual actuation point(s) provide the operator or other personnel with the ability to activate the fire suppression system from outside the machine.
Optional Time Delay
The Ardent VCM Control Module can be configured to discharge the system following a pre-determined time delay. This allows the operator to bring the machine to a stop safely before the system discharges. The delay period can be configured according to your needs and preferences.
Engine Shutdown
The Ardent Engine Shutdown interface significantly reduces the chance of fire re-ignition after system discharge.
Fuel or hydraulic fluid leaks are a common cause of fire among mobile plant. When a fuel or hydraulic line or connection fails, it can spray fluid on to a superheated component such as a turbocharger or exhaust manifold, starting a fire. If the engine continues to operate, this fluid will continue to fuel the fire. The engine shutdown stops the intake of more fuel by the engine, stopping the ignition of fuel or other flammable fluids coming into contact with superheated components.
Battery Isolation
Electrical faults are a main cause of vehicle fires. That is why Ardent recommend the installation of an automatic battery isolator, which reduces the chances of an electrical fire re-igniting. Battery isolation units automatically switch off the battery on activation of the fire suppression system, reducing the risk of a damaged wiring re-starting the fire.
Suppression Agents
The most common suppression agents used in mobile plant fire protection are dry chemical, also known as ABC powder, and wet chemical, either AFFF (Aqueous Film Forming Foam) or other liquid-based agents.
Dry chemical suppression agents offer reliable fire knock-down and excellent coverage of the protected areas. The agent hits the fire with high intensity and disperses easily thanks to its powder form, aiding coverage of the hazard areas. Dry chemical is proven to be 3 times more effective than wet chemical at extinguishing fires on a weight for weight bases.
Wet chemical suppression agent has limited fire suppression capabilities, but it excels at cooling. Wet chemical agent provides effective cooling of superheated components such us turbocharges and exhaust manifolds to reduce temperatures below the autoignition temperature of diesel and other flammable fluids, significantly reducing the risk of fire reignition.
For large mobile plant, Ardent always recommends an Ardent Dual Agent Fire Suppression System. These systems combine dry and wet chemical suppression agents to provide rapid and reliable fire suppression, and cooling for additional protection against fire reignition.
Agent Storage Tanks
Every machine is different and finding the right location for agent tanks can sometimes require some creative solutions. At Ardent our wide range of agent tank sizes allows us to provide a flexible system specification. This way, we can find a solution to protect all plant, great and small.
Our dry chemical suppression agent tanks range from 6 kg to 24 kg and include a range of lay-flat tanks that can be installed horizontally. Lay-flat tanks offer the flexibility required for installation on smaller pieces of plant such as forklifts, where install space is limited and vertical tanks can impact operator's visibility. Our wet chemical tanks also come in a range of sizes, starting at 7.3 L and ranging up to 39.7 L.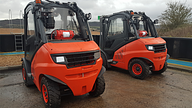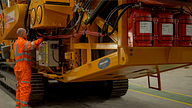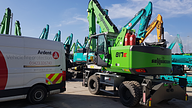 Agent Distribution Network
The distribution network of a fire suppression system strongly influences efficiency and speed of fire suppression. Our system design determines the fire hazard areas to be covered by the discharge nozzles, with careful consideration of obstructions and distance from the hazard. A network of hoses and pipework carries the suppression agents from the agent tanks to the discharge nozzles.
For reliable fire protection, the nozzle's pattern and maximum effective discharge range must be considered to ensure that the discharge allows all fire hazards within the machine to be covered. Some areas may require multiple nozzles for sufficient coverage, while other hazards may be close enough that one nozzle is enough to cover them.
Fire Suppression Systems Tested to International Standards
The Ardent Fire Suppression Systems for mobile plant applications are designed and engineered to withstand the most challenging conditions. This includes extensive internal and external testing, as well as obtaining accreditations and certifications to demonstrate our commitment.
The Ardent Fire Suppression System holds the following certifications and testing:
Bump Testing (EN 60068.2-27)
Shock Testing (EN 60068.2-27)
Vibration Testing (EN 60068.2-6)
Change of Temperature (EN 60068.2-14)
The Ardent Dual Agent Fire Suppression System achieved the A+ rating for the P-Mark SPCR 199:2021 certification - the highest rating for this testing. In addition to fulfilling the requirements of the standard, Ardent undertook tests at a higher severity than what is called to be awarded an A+ rating, showing our commitment to delivering market leading system performance and reliability.
In addition to this, our fire suppression systems have been tested to Original Equipment Manufacturer and International Electrotechnical Commission (IEC) standards for bump, shock, vibration, and temperature performance by a UKAS accredited testing facility.