The right
solution

Consistent
quality

Unfailing
support

Knowledgable
& educational

Proud to be
specialist
Small mobile plant such as forklifts are essential to the operation of many businesses. They are usually used indoors in warehouses or production facilities often surrounded by raw materials finished goods and other valuable assets.
A common cause of fires in forklifts are flammable materials, such as dust, debris, oil and grease, getting in contact with very high temperature components in the engine compartment and igniting. Electric forklifts also pose a risk of electrical fires.
In addition to damage to the machine, a fire on a forklift operating in a warehouse or production facility can spread and ignite flammable stock materials and finished products stored in the surrounding area. In the worst-case scenario, small plant fire can cause injury to personnel operating the machine or working in the vicinity.
Our systems ensure reliable automatic fire detection and actuation.

Rapid fire detection

Our systems react to a fire in a matter of seconds, minimising damage and disruption.

Reliable fire suppression

Our electronic detection and actuation technology reduces the risk of false discharges.

Compact systems

Our compact systems can be fitted easily to small plant, with lay-flat tank options.

Fast callout response

Our Engineers can be on site in a matter of hours to get your machine back to service.

Complete peace of mind

From start to finish, we take care of all aspects of your plant fire protection.
The size of forklift trucks means that they need a compact but efficient fire suppression system, without compromising on quality or reliability.
There are several fire suppression systems in the market offering forklift protection. Some of these are pneumatic systems using pressurised tubing as a means for fire detection and agent distribution. The shock and vibration that mobile plant is exposed to during operation makes these systems unsuitable for forklift applications. Damage to the tubing will result in a loss of pressure, discharging the system. High instances of false discharges in these systems mean increased vehicle downtime and operational disruption.
Ardent Automatic Fire Suppression Systems for light mobile equipment use our Linear Heat Detection (LHD) cable, which eliminates the risk of false discharges due to loss of pressure. Our automatic systems detect and suppress forklift fires in a matter of seconds, ensuring 24/7 reliable protection for the forklift, facilities and operators.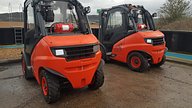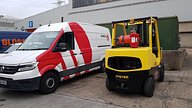 Detection
Ardent Fire Suppression Systems for small mobile plant use our Linear Heat Detection (LHD) cable to rapidly detect a fire or high temperature condition. The LHD cable is routed around the identified fire hazards in the engine compartment and other high-risk areas in the vehicle.
As the LHD cable does not require pressure to operate, it does not suffer from false discharges which can arise due to loss of pressure in pneumatic systems, making the electronic systems a safer and more reliable option for mobile plant.
Activation
Once the LHD cable detects a fire, it sends a message to the Ardent Control Module to initiate the suppression agent discharge within a matter of seconds. A time delay can be setup if required, and the operator can also manually delay the discharge so they are always in control of the machine.
Distribution
Distribution nozzles are critically located to target all identified fire hazard areas in the machine, both inside and outside the engine compartment. A network of distribution hoses connects the tanks storing the suppression agent to the nozzles. On system activation, the suppression agent travels through the distribution network and discharges through the nozzles to effectively suppress the fire.
Fire Suppression Agents
ABC dry chemical, also known as dry powder, is the recommended suppression agent for small mobile plant, as it offers excellent fire knock-down capabilities. The Ardent Dry Chemical is able to disperse widely and cover even the hardest-to-reach areas of the engine compartment.
Dry chemical can be used independently or in combination with wet chemical agent. Wet chemical is recommended where the forklift operates in environments with abundant combustible materials, as it helps prevent fire re-ignition. The wet chemical cools super-heated components, stopping combustible materials from re-igniting after the system has put out the fire.
How We Deliver
At Ardent, we take care of every step of the process to ensure your plant and personnel are protected against the risk of fire 24/7. From understanding the fire hazards specific to your equipment and environment to our rapid response to emergencies, you can rest assured our systems will deliver the highest level of protection your business requires.
Let us worry about the fire safety of your equipment, so you can focus on your business.
Related Content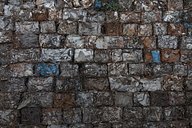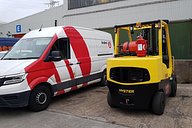 Key considerations when choosing fire suppression for forklifts.