Q&A with Steve Thompson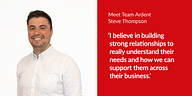 For our customers who regularly speak to the team, introducing our team members puts a face to the voice and shows the range of individuals that make Ardent. In this Q&A we speak to one of our Account Managers, Steve.
What attracted you to working at Ardent?
Being a leading company in their field and always looking at new solutions to clients' problems, I knew that Ardent would be a great company to work for.
What does your role involve?
As an Account Manager, I look after the needs of some of our largest clients. I believe in building strong relationships to really understand their needs and how we can support them across their business.
What is your biggest contribution at Ardent?
I'd like to think I'm a really approachable member of the team and can understand the different challenges facing each of our departments. Thinking about how we can work together to overcome those challenges is something I enjoy a lot.
Which Ardent value do you most identify with and why?
Challenge ourselves - we work in an ever-evolving environment and finding the right solution for each of our clients is the biggest challenge as each environment, work schedule and industry has its own unique needs. There is no such thing as a one size fits all fire suppression system.
What would your superpower be?
Can I just have all of Superman's powers? I think that would give me the ability to do everything I need to!
Describe your perfect day.
A long, quiet, relaxing day. A long dog walk followed by a pub lunch with the family and a lazy afternoon on the sofa with a film sounds like the perfect day to me.
Do you have a guilty pleasure?
I definitely have a sweet tooth - there are often cakes, cookies and doughnuts in the office and it's becoming harder and harder to say no...
When you were young what did you want to be when you grew up?
I wanted to be a Pilot and travel the world. I still like to travel as much as possible but at least it's not while I'm working.
What do you love doing outside of work?
I just love to be outside either playing sport, walking the dog or being in the garden.
What is your personal goal for the next year?
I've currently got a long list of DIY projects to complete on a house we bought last year and it definitely seems to be getting longer rather than shorter so it'd be great to knock that list down.
Related News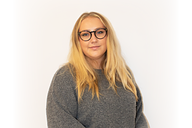 Meet Molly Carter our Production Planner, working to identify areas where we can work smarter to reduce lead times for our customers.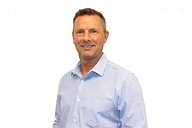 Meet our International Sales Manager, Jason Lewis.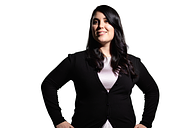 Meet Vic, our friendly Operations Support Coordinator.